StaffCounter is a fully automated time-tracking and monitoring system, which allows you to know of what your employees are really doing on a Computer.
User Activity Monitoring Software benefits:
1. Adhere GDPR compliance with personal data security assessment
2. Real-time track of what/where/when related to suspicious user activity with personal data
3. Digital forensics for incident response
4. Сontrol the quality and timing of tasks
5. Objectively evaluate the work of each individual employee
6. Effectively distribute the load and get real results
7. Monthly employee performance reports
8. Monitor new and remote employees
9. Always be aware of the work, while traveling
10. Start collecting data in just a few minutes!


User Activity Monitoring

Insider Threat Detection and Management


Remote Workforce Management
Choose one of the three StaffCounter subscriptions and start User Activity Monitoring
Basic
---
AUTOMATIC TIME TRACKINGSUITABLE FOR PERSONAL USE

Report storing for 40 days


Up to 15 MB per device / Up to 5 devices
---

Users Activity Monitoring Dashboard


User Activity Log


Time-tracking


Pauses and breaks tracking


Start and end of a working day tracking


Application tracking


Internet usage tracking


Timesheet


Export to EXCEL


Record of window title of an application


Access to own performance report


Stop/restart user monitoring


Hide the
StaffCounter
icon from the system tray


15 days Trial of Standard account
Standard
---
ACCOUNTING OF WORKING TIME AND EMPLOYEE PRODUCTIVITY MONITORING
$1
per one employee / month

Report storing for 3 Months


Up to 200 MB per device
---

All features of the Basic package

Screenshots


Webcams


"Smart Screenshot" Option


Record audio


Keylogging


Skype monitoring


Deep monitoring


Statistics of Websites using


Gallery of screenshots/webcams


Employee Activity Hours


Statistics of application usage


Statistics of file usage

more

Section for audio recordings


Typing Statistics


Report: Productivity


Report: Productivity by categories


Report on working hours, lateness and overtime


Productivity and application usage summary


Productivity Chart


Search by active apps


Skype Report


Breaks Reports


General agent settings


Setting of the schedule of departments and holidays


Setting the time for receiving reports by e-mail


Setting of Productivity Categories


Setting of Productivity Categories
for Applications


Permissions to view the analytics of your department \ employees to other users


Ability to download an archive of all activity


Email reports: Violation Notices


Email reports: Full daily, weekly, monthly


Email Report: Employee log


Email Report: Internet usage


Email report: Applications usage

Professional
---
Employee performance analysis and information security
$3
per one employee / month

Report storing for 6 Months


Up to 700 MB per device
---

All features of the Standard package

Lock USB drives


Lock Bluetooth


Disable writing to CD \ DVD.


Lock smartphones and external drives


Prevent sending documents and files through the network \ browser \ mail client \ ftp


A ban on the launch of unknown \ outsiders \ unauthorized programs


Extended data storage volume and time
StaffCounter Server on-premise.
SELF-HOSTED STAFFCOUNTER SERVER: FULL DATA CONTROL AND PRIVACY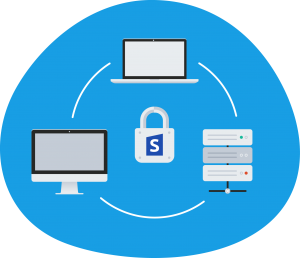 – Unlimited storage and history.
– All data is collected on your cloud.
– All options are included.
– Setup, maintenance and updates under SLA.
Audit discipline
Automatic record of computer startup, employee login/logoff/unlock, idle time and turn off.
Applications
Record application process name and websites address used while working with sensitive data.
Deep tracking and access audit
StaffCounter User Activity Monitoring technology is based on deep events inspection, User Behavior Analysis engine and Data Leak Prevention modules developed by SafeJKA and approved by KidLogger for ten years in the consumer market.
StaffCounter is available for computers and smartphones
running Windows, Mac, Linux and Android
According to experts, the following technical strategies may help to form your GDPR compliance plan:
– Auditing of personal data access and modifications;
– Secure archiving of audit records;
– Tracking and monitoring sensitive data access.