The StaffCounter team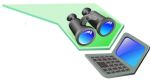 The StaffCounter team is located in the Republic of Moldova and is more commonly known as the vendor of the Rohos data security and access control software.
Before releasing StaffCounter, we have spent several years developing a user activity-monitoring system for computers and smart-phones – KidLogger. KidLogger Parental Control SaaS  made a significant contribution to the growth of this field.
We started developing StaffCounter for our own needs and we are now pleased to offer it to everyone.
The StaffCounter mission
To be the most accessible means for measuring employee productivity and detecting violation of rules at the computer. The main goal in this is to let users get on with their work, and draw managers' attention only to what is really important.
We are also working on experimental features for StaffCounter, such as data leaks prevention and monitoring of mobile devices. We use open standards and share apps source code. We'd love to hear your comments and suggestions.
Our address:
10, Calea Iesilor str.
MD-2069, Chisinau
Republic of Moldova
Tel.: (+373) 792-30-655 (for business and sales questions)
Working hours: 9:00-17:00 (GMT:+3:00)