What makes StaffCounter different from other Employee Monitoring Software?
It tracks keyboard input
StaffCounter Employee Monitoring Software keeps a record of how much text is typed on the keyboard. This helps to determine employee performance, showing in which programs or on which sites employees are doing the most typing.
It detects mouse movers
StaffCounter will not account for work time if the mouse movers generator is detected.
It controls Skype, Zoom, and Teams usage
StaffCounter User Activity Monitoring Software records the name of the chat contact and the total number of messages in Skype, Zoom, or MS Teams chat applications. It is also supported by the Android platform.
It tracks web searches
In addition to the sites that employees use most, StaffCounter records what employees have searched for on the internet. This helps to determine what employees are interested in during their working hours and what issues they are working on. You can find the list of employee searches in StaffCounter's internet usage reports.
It tracks the Internet connectivity status
StaffCounter has multiple methods to ensure that the employee has a good Internet connection to perform real work. Other methods include screenshots taken at regular intervals, keyboard and mouse activity, and which websites applications were used. StaffCounter automatically detects any Internet disconnection and creates a respective record in the employee's personal activity log.
It tracks smartphones (Android)
Monitor corporate smartphones, and keep a record of calls made and your employees' movements around the city. See an example report here.
It automatically stops tracking time when the user leaves the computer
StaffCounter stops tracking work time when there's been no keyboard or mouse activity for a while and can give users the option to describe afterward the type of offline task they have done during that time.
It Doesn't track time out of the work schedule
StaffCounter automatically stops tracking time out of the work schedule and automatically resumes tracking the next day morning.
It allows watching all of the employee's screens on one grid page
Screen View reports display the grid that broadcasts all computer screens. The Screen View page allows watching 10-50 employees or more at a time. If an employee leaves the computer the respective screen is faded.
It automatically detects rule violations.
StaffCounter User Activity Monitoring Software can automatically identify possible violations in productivity rules and generate alert messages via email. This frees managers from constantly standing watch over office productivity and helps to implement an Insider Threat Detection program.
Violations which are shown by default:
Over 30% of employee time has been spent on entertainment or other unproductive sites.
More than 40% of the time has been spent on unknown or neutral applications and sites.
The StaffCounter agent is not working properly on the employee computer (perhaps it has been turned off)
The employee's computer has been disconnected from the monitoring system
More than 5 hours spent on entertainment or other unproductive sites for the week.
It's open-source
Transparency in ensuring the confidentiality of your information is a great priority for us, and so the StaffCounter (Windows) source code is open to the entire internet community for study purposes.
The most affordable price
We are the only solution that offers an opportunity to try our system out and assess its usefulness for time-tracking and remote workforce management – and at the smallest expense:
15 days free for 5 employees
Then just $1/month more for each employee
It's easy and secure
StaffCounter doesn't require you to maintain a server installation.
It's a cloud web service, so all information about your employees is available from our website online 24/7.
Registration and basic setup take only 2 minutes.
Connect any computer to StaffCounter in just 1 minute.
It uses secure HTTPS and SSL connections only.
StaffCounter Workforce Management Software does not track sensitive information by default. Only the program name, and URL address. Detailed monitoring and screenshots are optional and enabled only with your permission.
Ultimate privacy warranty with end-to-end encryption
With Staffcounter, you can ensure the highest possible level of privacy for your data. Unlike alternative solutions, StaffCounter does not have access to your data in plain form. StaffCounter Agent apps encrypt data in computer memory on top of SSL/TLS transmission with help of military-grade encryption. Decryption happens only in the dashboard or dedicated productivity report pages when the account owner is authenticated. This process works in addition to standard SSL encryption. Learn more…
Other Time-tracking services also encrypt screenshots and data before sending them to the server, but the server automatically decrypts it to store it in the Database. StaffCounter server stores and processes data always in encrypted form because all data is encrypted with end-to-end encryption.
This is a unique key differentiation. Staffcounter is the only solution with so highest level of confidentiality, privacy, and security.
Access security features
Staffcounter also offers two-factor authentication, account changes audit control, devices with session access control, and dashboard access notification for new browsers. Secure encrypted data backup.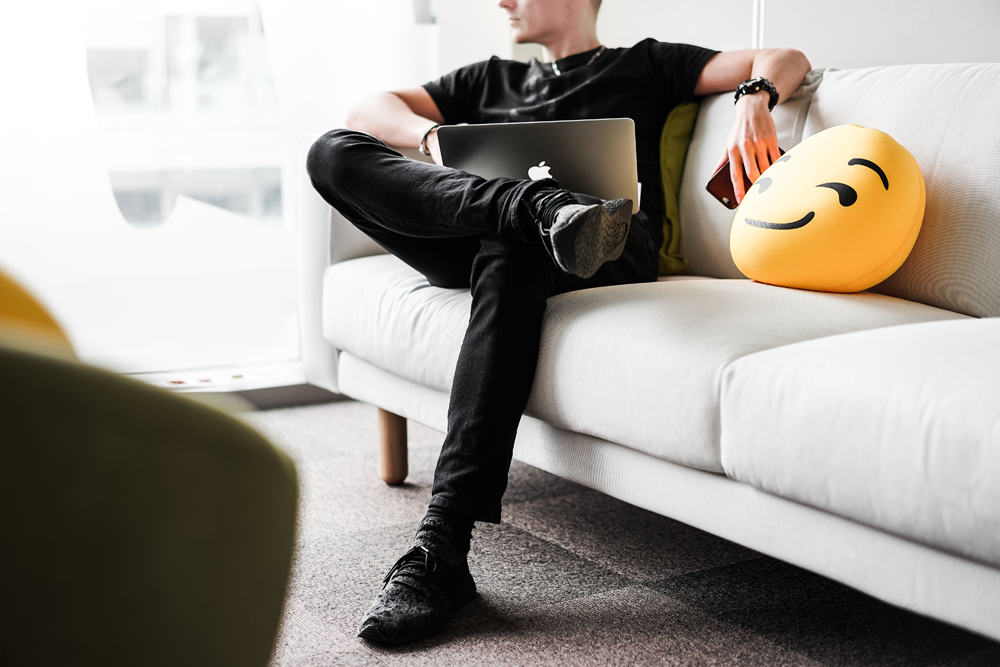 User Activity Monitoring Software StaffCounter helps you learn what affects the performance of your key employees.