StaffCounter Server on-premise
Keep your data strongly in-house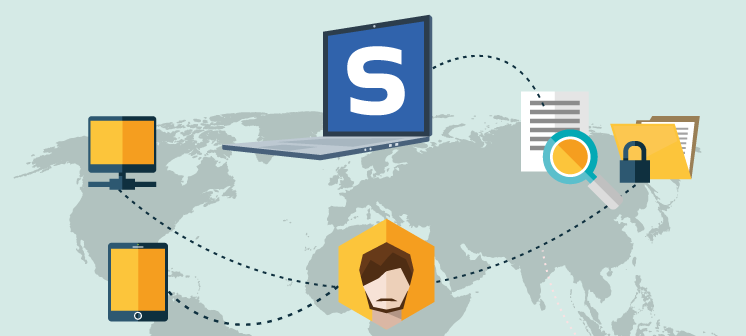 System requirements
Any Windows, Mac or Linux* operating system on the employee's workstation.
On the server side:
a Windows/Linux PC that can be accessed over the LAN from all employee PCs. You do not need to install any additional server software.
Windows / Linux based computer with VirtualBox installed (free) or KVM / XEN
Minimum 8 GB RAM, 50 GB free disk space.
Compatibility
– compatible with ERP – data export via API is possible
Updates
– We periodically, once in 4-5 months, post updates for the server.
– In order to get server updates you need to purchase any StaffCounter Server package, after that you will get an updated version of the server.
StaffCounter Server on-premise. For the enterprise network.
Monitor how employees spend their working time over your office's computer network.
Information is kept completely confidential
All of the data about employee productivity and audit trails are saved only in-house on your IT infrastructure. You owns and controls the data usage.
Information gathered can be stored for an unlimited amount of time
The period for which activity logs and screenshots are stored is limited only by the free disk space on your server.
Save on the costs with your private cloud
You don't need to waste time configuring and supporting the server side. StaffCounter Server is delivered as virtual appliance for Microsoft HyperV, XEN, KVM or Vmware / VirtualBox.
Additional tools for monitoring computers:
Log all text entered at the keyboard, an audio recording of the office, Skype monitoring. Use StaffCounter DLP module to keep track of unauthorized changes in critical SCADA configuration files.
StaffCounter Server on-premise
a professional open-source SaaS software for in-house time-tracking and employee auditing.
StaffCounter Server – One-time payment, lifetime site-license
Virtual container based on Linux Ubuntu 18, OVF format.
Web server of StaffCounter is provided as open source web application in PHP/Zend.
Get 1 month for free | Request Demo Version.
Remote setup, tech. support and onsite maintenance (10 hours) – $500. Order now>.