With End-2-End Encryption, all of the data captured from employees' computers will be encrypted instantly and decrypted only in the web browser of the account owner. When this feature is enabled the data being uploaded is encrypted on the workstations before it is sent out to the StaffCounter backend server, and data is decrypted only after it has arrived on the web browser when the company manager reviews the reports. StaffCounter agent app on workstations is responsible for generating and exchanging encryption keys with the manager account. StaffCounter E2EE encryption model does not require the backend to manage encryption material or perform encryption/decryption operations. All security operations are performed only on the 'Ends'.
The End-2-End Encryption model in StaffCounter permits the backend server to perform computations on encrypted data. In this case, the computations are sorting and aggregation. As with any other time-tracking solution StaffCounter record the frequency and duration of each application, document, and website opened by the employee, calculate the time spent for each item, and then sort the results for reports. This allows visualizing employee productivity for better analysis. But now, the architecture of E2EE in StaffCounter protects the employee name, and its productivity content from the StaffCounter server itself, since the content is encrypted always.
Example of Time Report with encrypted data: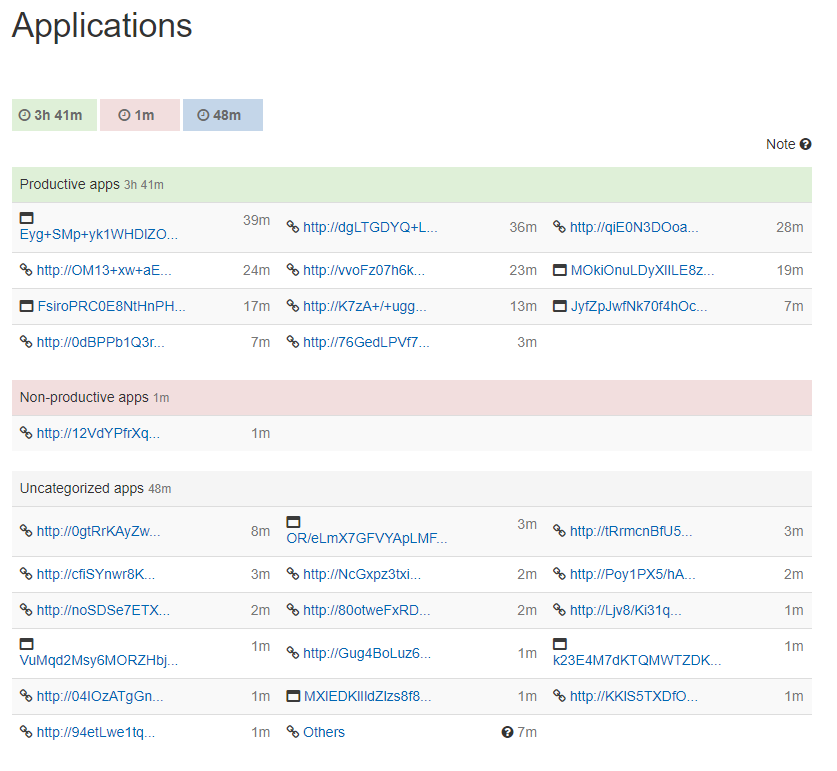 In order to try the E2EE feature, you need to download the new StaffCounter Agent v. 9.2 for Windows with "End-2-End Encryption" support and follow the step described below.